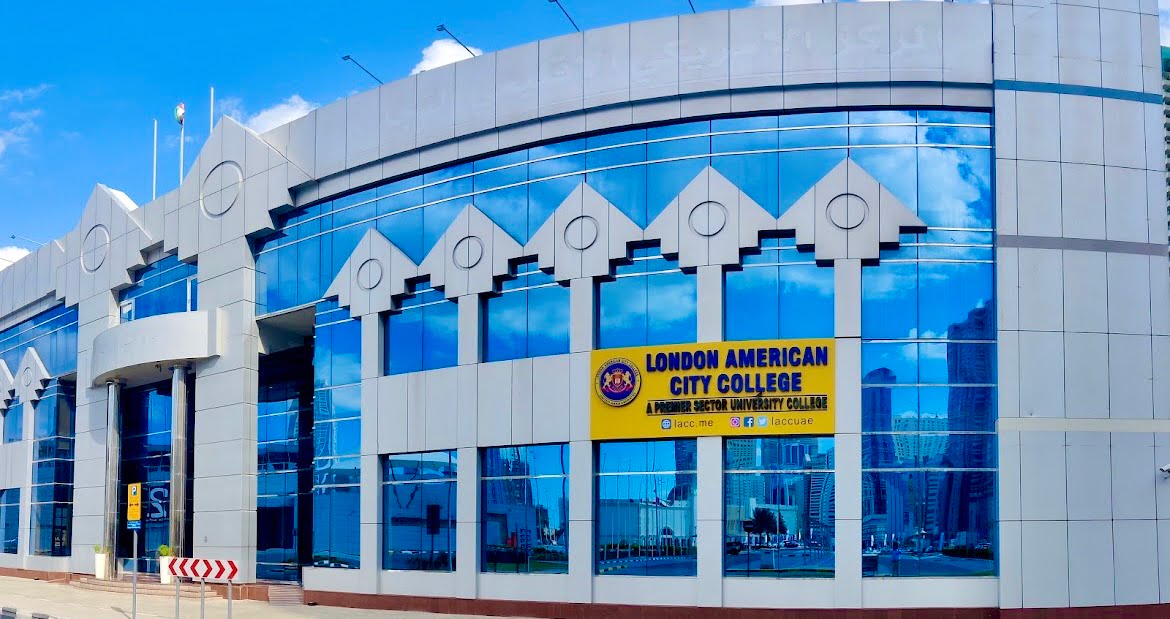 London American City College (LACC) is the only higher educational institution in the United Arab Emirates (UAE) Accredited by the European Council for Business Education (ECBE) and the Accreditation Service for International Schools, Colleges and Universities (ASIC), England with the distinctive status of "A Premier Institution". London American City College has been awarded the status of Candidate for Accreditation by the International Accreditation Council for Business Education (IACBE) located at 11960 Quivira Road in Overland Park, Kansas, USA. LACC is also an Educational member of the Accreditation Council for Business Schools and Programs (ACBSP), USA has affirmed its commitment to excellence in business education. For maintaining a superior scholastic standard in teaching and excellence in research, the LACC has won European Gold Award and the BiZZ award a couple of times.
London American City College is a promising college of higher learning with a rich heritage as it is established by two eminent and well-known professors of international repute: Prof. Dr. Paulson Mathew Chunkapura (President & CEO) and Prof. Dr. Kaup Mohamed (Dean & MD), who is very popular with the student community and committed to providing world-class European and American education to the student community of the globe for over 42 years. The President and the Dean of the London American City College have won several international awards and medals.
Our Achievements
LACC has produced over 15,000 graduates and post-graduates of America's top-ranking Madonna University, Livonia, Michigan, and the Euro College of the Republic of North Macedonia. Madonna University, Accredited by the American Higher Learning Commission and recognized by CHEA and the Euro College, Accredited by the Board of Accreditation of the Ministry of Higher Education of North Macedonia has been a university partner of the London American City College for nearly two decades.
More than 95 percent of the graduates and the post-graduates of Madonna University and Euro College in partnership with the London American City College are in excellent positions in multinational corporations and top-ranked local industries. London American City College has produced thousands of star managers and future business leaders.
London American City College's graduates and post-graduates are very successful in the global workplace because it not only provides excellent business education but also equips students to tremendously improve their much-needed skills such as excellent speaking skills and listening skills, leadership skills and teamwork skills, critical and strategic thinking skills, writing and presentation skills, strong interpersonal skills, technical skills, persuasion skills, problem-solving skills, EQ skills, organizational and planning skills, motivational skills and the ability to work with people of diversified culture. In short, London American City College teaches and provides its students with all the essential skills and traits that employers are expecting from prospective employees.
Our Courses
London American City College realizes that there are no shortcut methods to excellence in education. If a genuine student wants to study Madonna University's or Euro College's BS (Hons) or BBA degree, the student should be in possession of an accredited and officially recognized Grade 12 qualification. Similarly, a person who wants to pursue Euro College's MBA degree he/she should have either a Euro College's BBA degree or should have passed a fully accredited and globally recognized BBA degree from a reputed university. Similarly to pursue Madonna University's MBA degree, the person should have a 4 year fully accredited and recognized Bachelor's degree from a reputed university. Be aware that, people holding one-year BBA degrees or unaccredited degrees from unrecognized and unauthorized Diploma mills and unrecognized universities can never pursue Madonna University's or Euro College's BS (Hons), BBA, or MBA degrees.
Our Facilities
London American City College has double accreditation from Europe's highly reputed two accrediting bodies and is licensed by the government of Fujairah. LACC is an authorized Higher Educational Institution operating under the Fujairah Free Zone Authority of the government of Fujairah. LACC maintains a very high academic standard and will never compromise on the quality of education.
LACC and its institution – ICBEST – SAIF ZONE, Sharjah provide students' visas and have free wifi and parking facilities and an excellent food court, indoor sports facilities, and well nit library, including an E-reading library.
What We Offer
With Madonna University's BS(Hons) and MBA degrees offered by London American City College and its institutions, students can migrate to the USA, Canada, Australia, New Zealand, England, and all other European countries easily. London American City College has students from 45 countries and has a truly global learning enrichment. In the final year of their bachelor's and Master's degrees, eminent professionals from the USA and Europe come down and teach the students of LACC.
So, if you wish to get a top-ranked and fully accredited American or European degree by just spending only 10 percent of the cost of studying in the USA or Europe, You are very cordially invited to join and study at London American City College and its institutions and to get the job of your dream when no one is hiring.